Charley's Steak House Pride
Want to indulge in a mouthwatering open-pit flame-grilled steak? Then Charley's Steak House is the place for you. According to Charley's Steak House's website, they serve Midwest grain-fed USDA prime and choice beef, which is aged 4 to 6 weeks. They cut the meat daily and season it for 30 hours before hitting the grill. They grill it over an open pit to your cooked preference. A birthday celebration had us, a party of 5, book a reservation at this famous restaurant. Here is my account and thoughts on Charley's Steak House.

Welcome to Charley's Steak House
Our reservation was for 6:30 pm, therefore no waiting involved. The host led us to our table, addressing me by my name once I mentioned a reservation. It was a friendly gesture which I liked. Its décor is elegant but simple. Music played in the background at an appropriate level. It allowed us to carry on a conversation without the need to shout. The tables are set at an appropriate distance from each other, confirming with social distancing, and the host handed out hand sanitizer once seated.

Drinks
As wine aficionados, we chose a bottle of Campo Viejo, "Gran Reserva," from the Rioja region in Spain. If you have not tried it, it's an excellent wine and a perfect paring for steak. Others in our party ordered a Cantaloupe Martini and Pappy's Rose Lemon Drop. The Cantaloupe Martini comprises vodka and watermelon liquor. A bit confusing since it does not have any watermelon but is quite tasty, according to the party who consumed it. Pappy's Rose Lemon Drop was refreshing and pleasant. It has vodka, rose-infused simple syrup, lemon juice, and a cherry. All wonderful choices.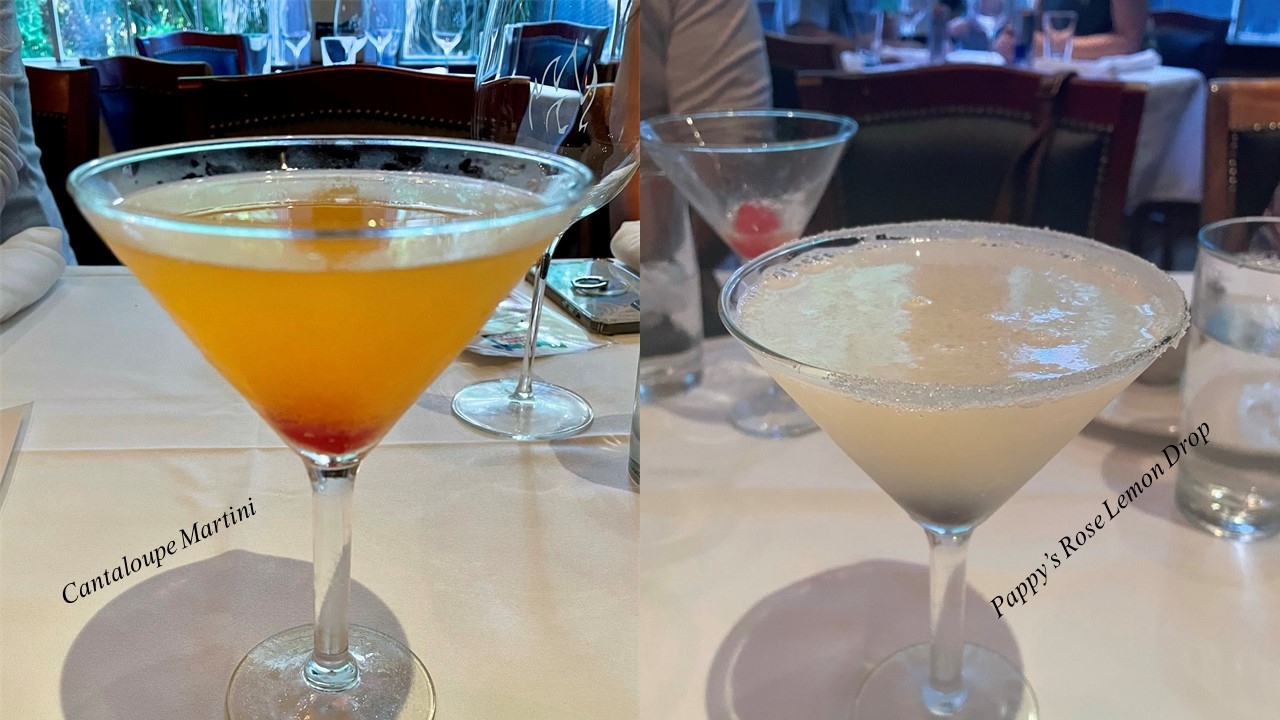 Appetizers
For starters, we had Cedar Plank Crab cakes and Tableside Steak Tartare. They cooked the crab cakes on a cedar plank over the open-flamed grill drizzled with white wine and topped with pineapple-mango salsa. The crab cakes were delicious. Steak Tartare is a raw meat dish that includes tenderloin, capers, red onions, egg, and parsley all mixed together at table-side and toasted bread. I am not a fan of the Steak Tartare but the others at our party enjoyed it.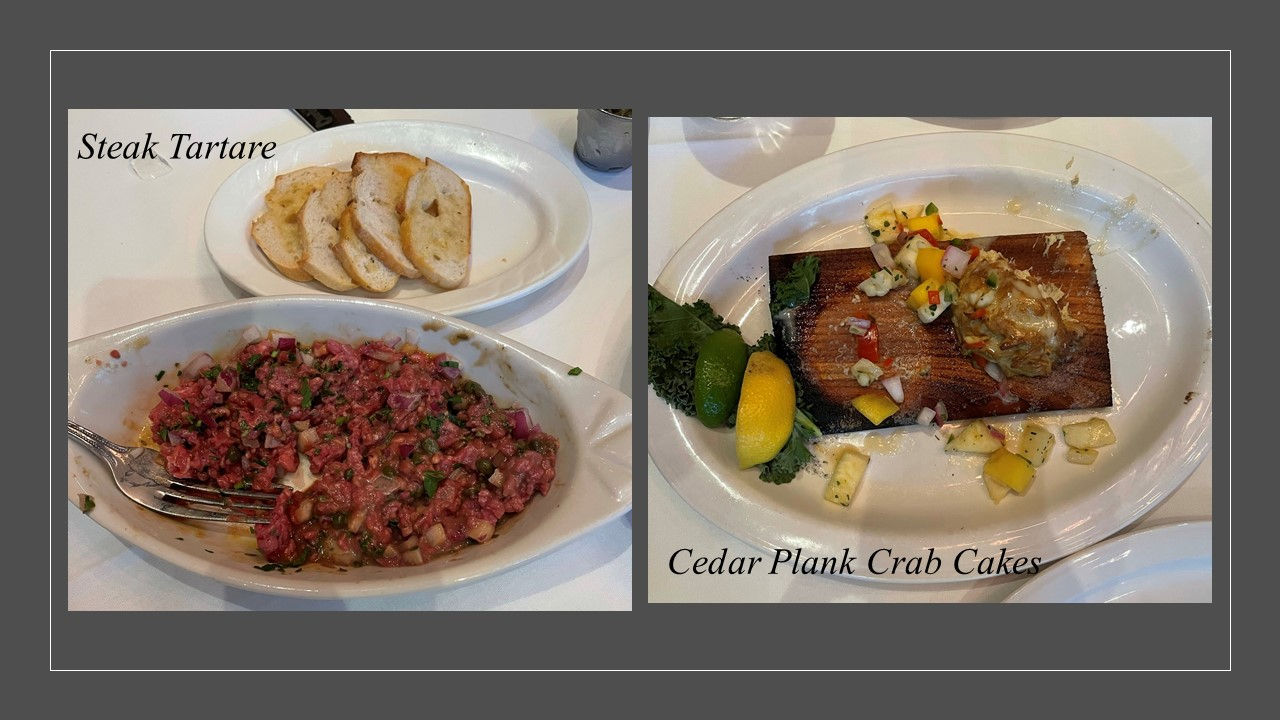 Entrees
The meal included an iceberg lettuce salad in a dressing. It was not appealing, nor did it taste fresh. Frankly, it was soggy. But we did not go to Charley's Steak House for the salad. Now here's what you've been waiting to read about. The server brought out a platter of steaks to the table and gave us a small lesson on the cuts and sizes – which made our decision harder with so many great choices. Our party's order included a 24oz Porterhouse, two 6oz Wagyu Filet Mignon, a 12 oz. Center cut Filet Mignon, and the 24oz. heritage ribeye -Mishima Reserve American Wagyu. All the above choices perfectly cut and appealing to the eye. They seared the thick cuts on the outside and cooked to our choice on the inside. The meat was tender and juicy and very tasteful. By sharing a taste of each cut we concluded that the Porterhouse was, by far, the best tasting. While the Mishima Reserve American Wagyu was the most tender—almost melting in your mouth.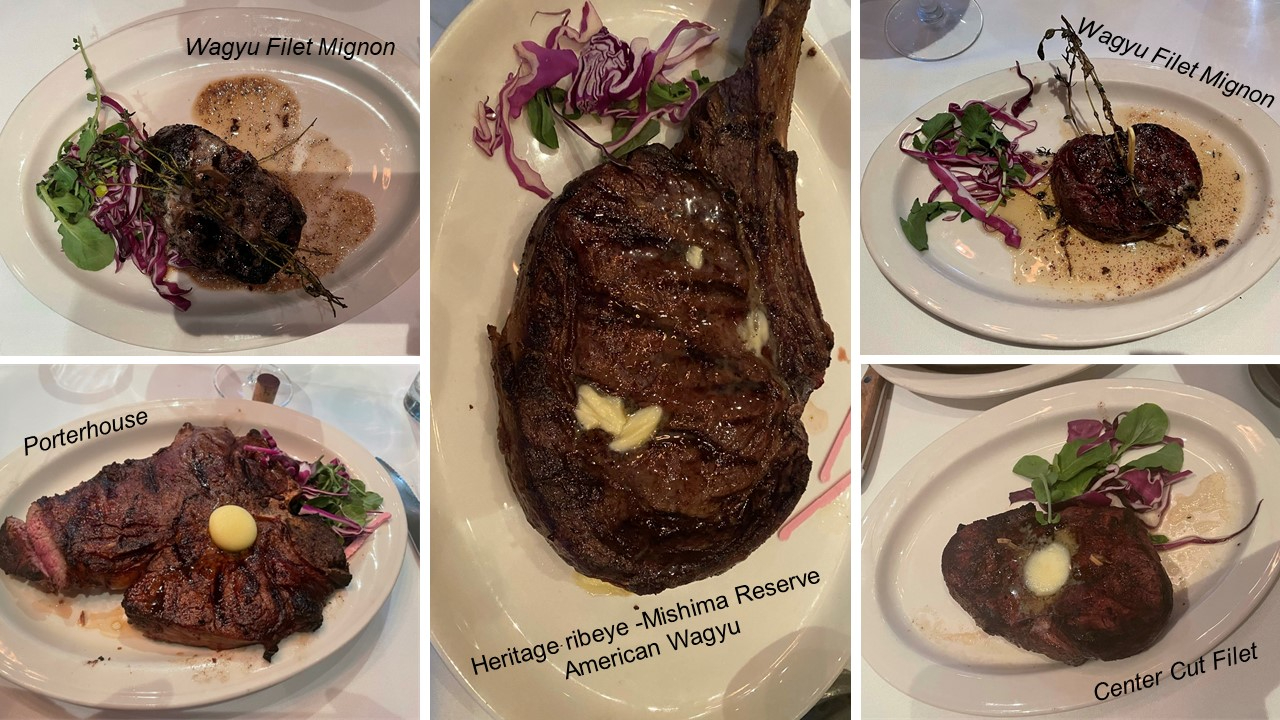 As a side companion we ordered Au gratin potatoes, Cedar Plank Cauliflower, and French fries. I find Au gratin potatoes are always tasty, but the cauliflower was the best. And French fries, well they are just French fries that someone ordered. I didn't taste the fries but am sure they tasted just like any regular French fries.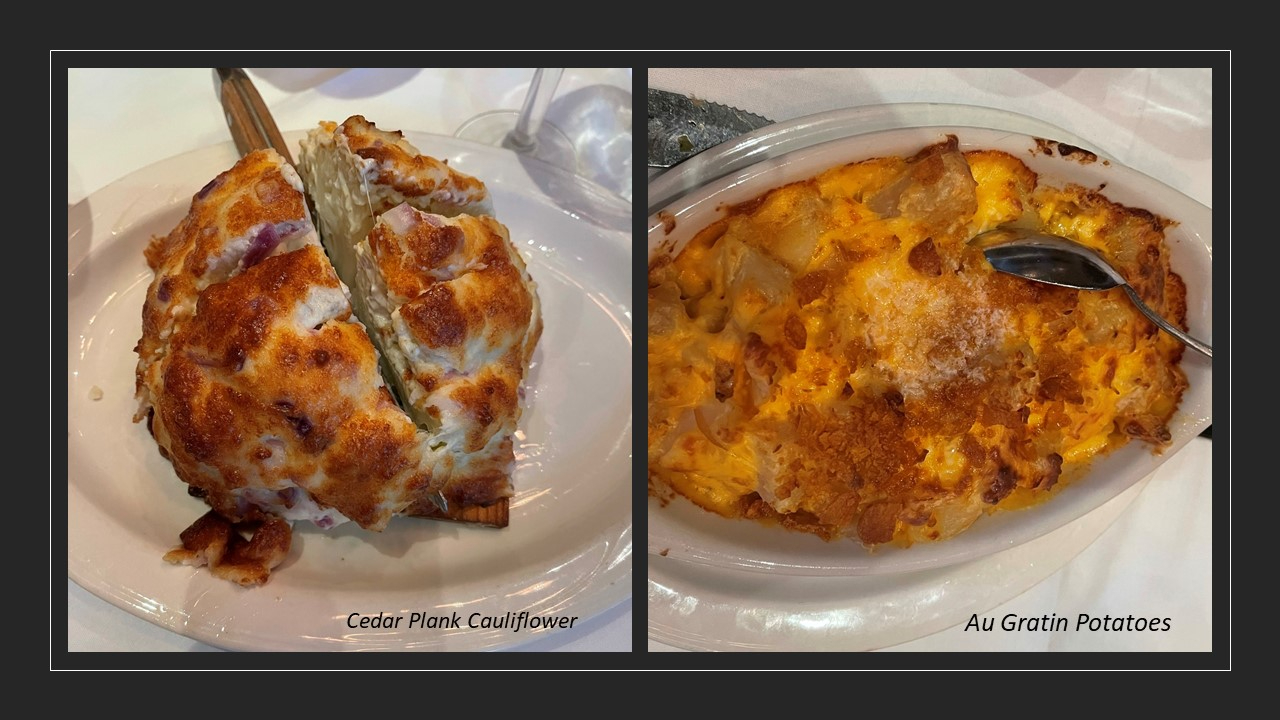 Desserts
To finish the night, we opted for Crème brûlée with a side of mixed berries and vanilla ice cream. The server flambeed the Crème brûlée at the table side—an amusing entertainment. However, this dessert did not impress us.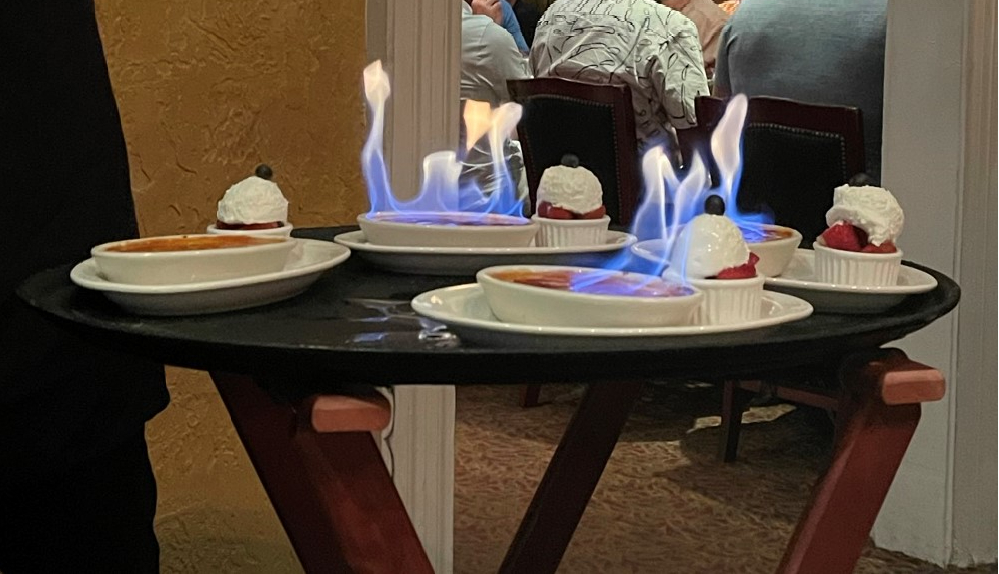 Service
The service was top-notch. They catered to us with small talk here and there. The server was knowledgeable and made brilliant suggestions. For instance, the Steak Tartare and Cedar Plank Cauliflower were server suggestions, and our party was quite content with these choices. Close to the end of the night the manager, Jared Weeks, stopped by our table to ensure everything was okay – very polite young man.

Is it Affordable?
Charley's Steak House is a bit $$$. But I can assure you it is well worth it. The portions are large and just like the sides which are shareable, maybe you can opt for a larger cut of steak and split it between two or more. It depends on how much you want to eat. Not everyone can handle a 24oz steak!
My Opinion
Overall the meal was delicious – except for the salad. But, like I said before, we did not go to Charley's Steak House for the salad. Our experience was superb. One of the best places we have eaten in a long time. Charley's Steak House has various locations in Central Florida. If you're in town and craving a great steak, stop by Charley's Steak House at 2901 Parkway Blvd in Kissimmee, Florida 34747 or check out their other locations. Taste for yourself and don't let others tell you.
---